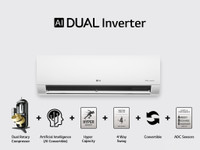 Artificial Intelligence Dual Inverter
Leveraging artificial intelligence and variable tonnage technology, the LG AI Six-in-one Convertible Split Air Conditioner intelligently analyses the room temperature. It can also forecast an ideal cooling capacity and modify the required vane position, fan speed, and temperature.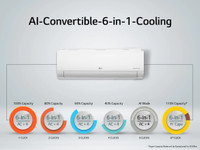 Six-in-one Convertible Cooling
Thanks to its six-in-one convertible modes, you can quickly enhance or reduce the cooling capacity of this air conditioner. Courtesy of its artificial intelligence convertible modes and integrated sensors, this air conditioner provides optimal cooling performance by automatically assessing the current conditions and input provided by the sensors.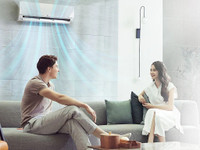 Corner-to-corner Air Circulation
The horizontal and vertical four-way swing movement of this air conditioner improves air circulation while providing constant cooling across the space.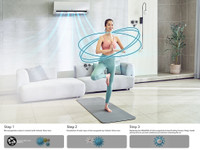 HD Filter with Virus Protection
Equipped with an HD filter that has an antivirus AgNPs coating, this air conditioner effectively paralyses and demobilises viruses and bacteria. This way, it ensures that the indoor air in your space is clean and germ-free.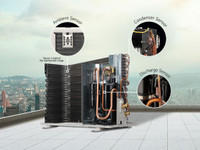 ADC Sensors
Integrated with ADC safety sensors, this air conditioner provides excellent and long-lasting performance, making it stable, safe, and reliable. Its ambient sensor analyses external parameters to determine optimal cooling, allowing it to control the operation load and match the temperature set precisely. This air conditioner's discharge sensor aids in the control of the cooling cycle by measuring the refrigerant discharge temperature, which protects the compressor. It also tracks the amount of refrigerant in the system, which impacts the efficiency. Furthermore, the condenser sensor monitors and regulates the refrigerant discharge pressure, boosting compressor reliability and providing a checkpoint for pressure limitations.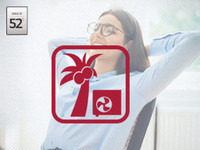 Cooling at High Temperatures
Even when the ambient temperature is as high as 52°C, this air conditioner can efficiently cool down your space. So, this powerful appliance is sure to keep you cool and comfortable even during the sweltering summer season.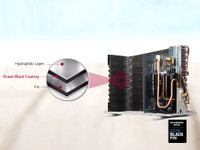 Ocean Black Fin
Sporting Ocean Black Fin, this air conditioner is protected from different kinds of environmental and climatic conditions.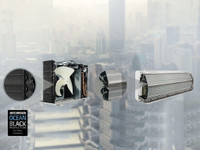 Pure Copper Tubes
Featuring special Ocean Black Protection coating on its internal and external units, this air conditioner provides long-lasting performance in Indian areas that are impacted by pollution, sand, industrial smoke, and salt.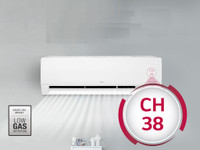 Low Gas Level Indication
This air conditioner displays CH 38 if low gas levels are detected, indicating the need for refilling and maintenance.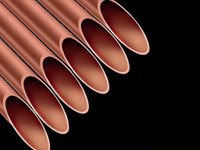 Copper Pipes
Designed with hi-grooved copper pipes, this AC delivers optimal cooling and long-term durability.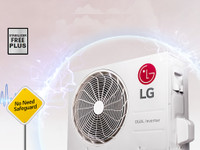 Stabiliser-free Plus Operation
This air conditioner features Stabiliser-free Plus operation, which provides safe, energy-efficient, and reliable performance even when the voltage fluctuates between 120-290 V.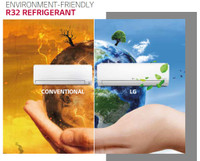 Eco-friendly Refrigerant
Equipped with a high-efficiency R32 refrigerant, this air conditioner has minimal global warming impact, making it an eco-friendly appliance.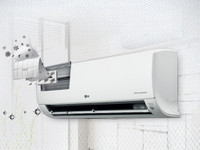 Auto-clean Function
If you select Auto Clean on this air conditioner, the heat exchanger will be dried automatically. This also prevents the growth of bacteria and mold.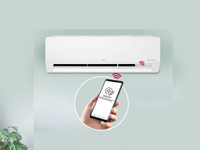 Smart Diagnosis System
Providing clear error notifications and remote diagnosis, this air conditioner can help you reach an LG service facility in your vicinity for a quick solution.
Specifications
General
| | |
| --- | --- |
| In The Box | 1 Indoor Unit, 1 Outdoor Unit, Inter Connecting Pipe, Remote Control, 2 User Manuals, AAA Batteries |
| Brand | |
| Model Name | |
| Type | |
| Capacity in Tons | |
| Star Rating | |
| BEE Rating Year | |
| Color | |
| Cooling Capacity | |
| Compressor | |
| Dehumidification | |
| Remote Control | |
| Refrigerant | |
| Operating Modes | Cooling Mode, Fan Mode, Auto Operation Mode |
| Condenser Coil | |
Dimensions
| | |
| --- | --- |
| Indoor W x H x D | 99.8 cm x 34.5 cm x 21 cm |
| Indoor Unit Weight | |
| Outdoor W x H x D | 77 cm x 54.5 cm x 28.8 cm |
| Outdoor Unit Weight | |
Performance Features
| | |
| --- | --- |
| Panel Display | |
| Indoor Temperature Indicator | |
| Cooling Coverage Area | |
| ISEER | |
| Other Performance Features | Stabilizer Free Operation, 6 Fan Speed Steps, On/Off Indicator |
Body And Design Features
| | |
| --- | --- |
| Condenser Fin Type | Ocean Black Fin Anti Corrosive |
Air Flow & Filter Features
| | |
| --- | --- |
| Air Circulation | |
| Auto Air Swing | |
| Air Flow Direction | |
| Anti-bacteria Filter | |
| Dust Filter | |
| Other Filter Features | 4 Way Swing, HD Filter with Anti-Virus Protection |
Convenience Features
| | |
| --- | --- |
| Auto Restart | |
| Timer | |
| Sleep Mode | |
| Memory Feature | |
| Self Diagnosis | |
| Other Convenience Features | Super Convertible 6-in-1 Cooling, AI Convertible, Low Gas Detection, Auto Clean, On/Off Timer, Self Diagnosis |
| Additional Features | Out Air Circulation: 1236 CFM |
Power Features
| | |
| --- | --- |
| Power Requirement | |
| Power Consumption | |
| Operating Current | |
Remote Control Features
| | |
| --- | --- |
| Battery Type | |
| Other Remote Control Features | 6-in-1 Button, Timer, Swing, Fan Speed, Comfort Air, On/Off Button, Set Temperature |